Hear from some of our LT riders why they ride and check out some of the other stories below
My Ride Supports My Service
Humble Hero. Active Servant.
Paralyzed in the Vietnam War, Dennis doesn't let his wheelchair slow him down. He uses LT to get to the VA Hospital in Lebanon 2-3 times a week for both doctor's appointments and his continued service to his fellow veterans as a volunteer. The phone calls he makes keep him connected to his community, and he's met quite a few other veterans while riding his regular route. LT's worry-free handicap accessibility and reliable schedule give Dennis the freedom to continue to serve his country.
Hear more of Dennis's story in the CBS 21 News feature "Images of Bravery".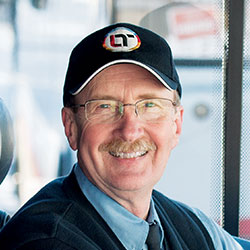 My Ride Helps My Community
Bus Driver. Trusted Companion.
While Doug drives the bus, it's really the riders that drive Doug. During his four years on the route, he's has built relationships with the state employees, lawyers, healthcare workers and banking professionals that ride to save time and money. He says it's almost like visiting family every time he drives and loves hearing passengers' stories. Whether it's giving guidance on routes, lending an ear or just getting riders to their jobs safely and on-time, Doug loves the opportunity LT gives him to give back to his community every day.
My Ride Is My Window To The World
Community Caretaker. Resourceful Grandmother.
When Giovanna suddenly found herself as a single mom of three, she says LT was a "godsend," enabling her life to keep moving forward. Now, 10 years later, it's an indispensable daily resource – enabling the independence she needs in her life. She relies on LT to take her everywhere she needs to go – work, errands at the mall, visiting friends and family, the grocery store, the bank and more – using the real time updates to see when the bus will arrive. Originally from Puerto Rico by way of Brooklyn, she's become a recognizable figure on her LT commute, often answering questions about schedules and routes at her workplace at a doctor's office in downtown Lebanon. Giovanna has formed relationships with both fellow riders – watching their daughters grow up together – and the drivers, who helped her buy her monthly pass when she couldn't make it to the office herself, all thanks to LT.
My Ride Gives Me More Family Time
Strengthening Bonds. Cherishing Moments.
For the Rodriguez family, there's nothing more important than spending time together. It became even more of a priority when their daughter came along 8 years ago. But Juan and Martina found that their separate commutes to their jobs in the state capital was preventing them from being together as much as they would like. That's when a co-worker told Juan about the Commute King Express from LT he uses to get to work from Annville every day. They decided to give it a shot and haven't looked back since. Taking the LT route to Harrisburg gave them less time in transit and more time where it matters most: together. Juan and Martina get to ride together without the worries of dealing with traffic, and the route home stops right at their daughter's school. Now they take LT everywhere – the Farmer's Market, to the park, shopping – and get to enjoy more special moments with each other along the way.